Note from the webmaster:
(11/20/99)
As you can see we are in the midst of a major update at spellingbee.com! Thanks again for stopping by. Since our last update (what seems like eons ago) Sunset Beach has been cancelled off of many NBC affiliates, and Safe Harbor has been added to The WB lineup. It was just this week, reschedule for Sundays at 7:00PM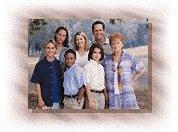 Check out the WB's New Aaron Spelliong & Brenda Hampton Show "Safe Harbor"